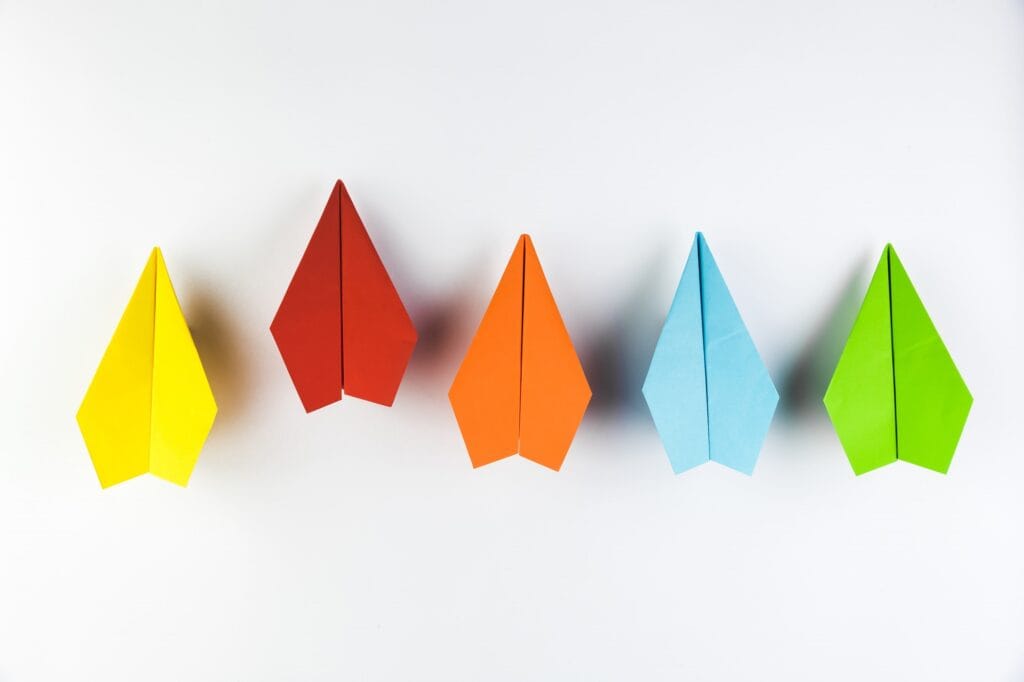 Asset managers face an uncertain economic environment due to the global growth slowdown and changes in monetary policy.
Competition in the asset management industry is fierce. Mergers and acquisitions are expected to be a common strategy to expand reach and strengthen scale.
FlexFunds sees quick access to cost-effective investment vehicles as crucial for the survival of asset managers.
Asset managers are navigating an uncertain economic landscape, driven by market conditions that compel them to change their structure and strategy to achieve efficiency in all areas while also identifying the best opportunities available in the current environment.
FlexFunds, a leading provider of investment vehicle set up and launch services, envisions a changing landscape for asset managers in the coming years amid an economic environment marked by a slowdown in global growth and a possible adjustment in monetary policy, according to analysts' projections for 2024.
This dynamic should set a new course for asset managers worldwide in terms of structuring competitive investment vehicles guided by the transformations taking place in the markets.
Factors such as better distribution of investment strategies and international investors' quick and cost-effective access to various vehicles are becoming increasingly relevant for their survival, two areas in which FlexFunds has significant expertise to support these asset managers.
The landscape for asset managers was more than challenging last year amid the headwinds of global recession, which have gradually subsided despite the threats that still loom in the global economy.
In 2022, assets under management (AuM) for asset managers plummeted by almost 10% from the 2021 peak – the worst performance in a decade – reaching $115.1 trillion. However, due to the transformations projected for this sector, a more positive environment is expected for asset managers over the next four years.
It is expected that by 2027, assets under management will rebound to $147.3 trillion, representing a Compound Annual Growth Rate (CAGR) of 5%, according to calculations from a PwC report.
In fact, in a context where inflationary pressures subside, and global interest rates continue to decline, there is likely to be a recovery in income derived from asset management to the point of surpassing the historical highs achieved in 2021, reaching $622.1 billion.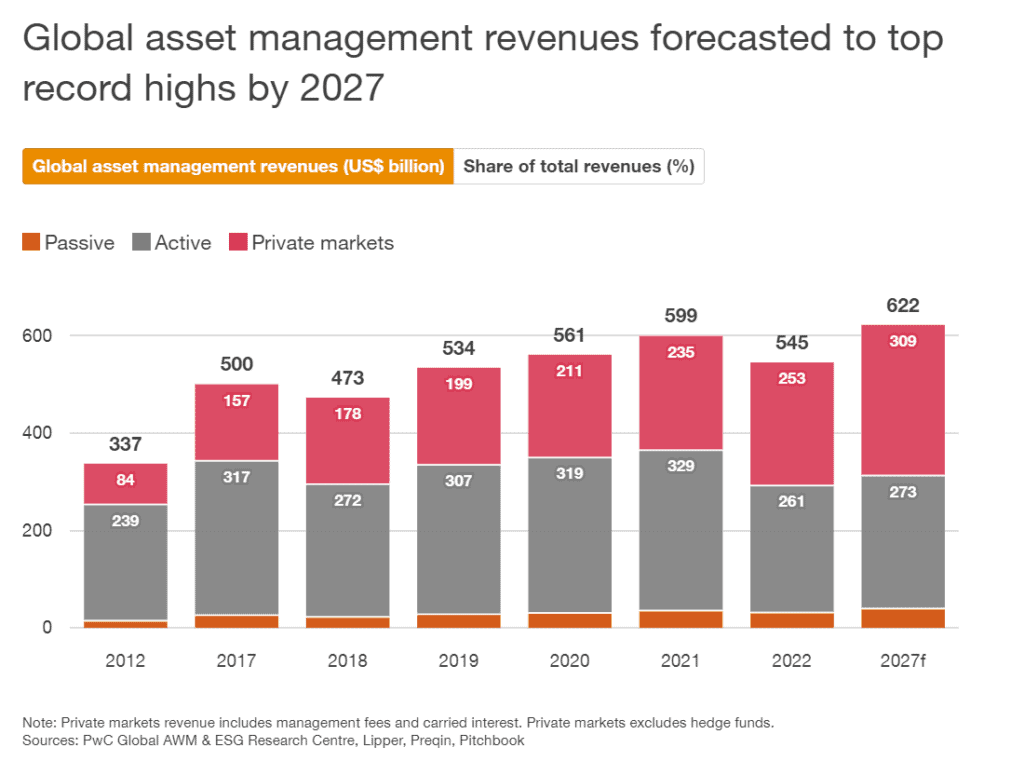 According to PwC's analysis, the following are the five challenges in asset and wealth management for their survival in the coming years:
1. Navigating turbulent waters will require more resilience.
Asset managers are navigating turbulent waters due to the economic challenges that emerged in the post-pandemic period, marked by higher inflation and tighter global monetary policy by major central banks worldwide.
In this context, access to credit became more expensive, causing many investors to opt for lower-risk financial vehicles outside of public markets to shield themselves from volatility. This compels asset managers to structure more diversified portfolios based on these needs and to strive to aim for higher-performing vehicles at all costs.
According to experts, the exodus from the stock market to other, safer financial vehicles like bonds by investors could threaten the market share of asset managers.
Therefore, they suggest that asset managers must interpret these dynamics in a timely manner and lead their clients to unconventional investment proposals, relying on tools such as predictive data analysis.
According to economic analysts, this scenario will be decisive for survival due to the lack of preparedness in the world of asset managers to withstand headwinds they have never faced before. Moreover, the risk is that this could extend for a longer period, putting more pressure on the viability of these businesses.
2. Competition intensifies: the strategy is to expand reach.
The asset management business is under pressure from a highly competitive environment, resulting in market concentration by the largest global players, which could impact both fees and commissions in the industry.
The top ten traditional asset managers are expected to reduce their control of mutual fund assets from 42.5% in 2020 to around half in 2027. This will happen as the adoption of technological tools allows these companies to gain an advantage over other competitors.
In this scenario, mergers and acquisitions within the industry are expected to be an alternative for organizations to expand their reach and strengthen their scale.
In their quest to reach new segments, mitigate risks, and grow their market share, 73% of asset managers surveyed by PwC plan to engage in strategic consolidation with another asset manager in the coming months.
In this same race, an approach that allows for innovative partnerships and small-scale agreements in areas such as technology and talent is also expected.
3. High net worth investors demand more advisory services.
Another major trend that could define the success of asset managers relates to capitalizing on the opportunities arising from the growing demand from individual investors, particularly those with high net worth.
In fact, high-net-worth investors are expected to represent the primary customer base with investable assets of at least $1 million. While a significant segment of these investors seeks greater access to products and services, including exposure to private markets, they are currently underserved.
The challenge for asset managers in light of these opportunities is to reconsider their client relationship strategy and, above all, develop highly personalized products. This could translate, for example, into issuing an investment vehicle through a simpler and more reliable process, an area that FlexFunds considers essential for the growth of these businesses in the coming years.
This opening of doors for asset managers is part of the growing demand for vehicles such as exchange-traded funds (ETFs). Still, it primarily stems from the wealth transfer phenomenon currently underway.
In fact, PwC projects that this wealth transfer will amount to $68 trillion from baby boomers (those born between 1946 and 1964) to millennials (born between 1981 and 1993) by 2030, driving increased demand for digital services.
4. Increased scrutiny for asset managers
As the global influence of asset managers grows, so does the imperative for scrutiny of these managers, particularly in areas such as Environmental, Social, and Corporate Governance (ESG) criteria. As these reviews become more relevant, there is also greater interest from managers in incorporating these criteria into their performance.
This change in perspective from asset managers is also in response to increased interest in how their activities are perceived by investors, various stakeholder groups, and their own employees.
The measurement of these managers' performance and the strategic decisions they make will likely be more closely tied to these ESG criteria, especially in key areas such as the energy transition.
At the same time, social factors such as an aging population and changing dynamics related to wealth will lead to regulatory changes that could impact fees and accountability in general.
As the role of asset managers becomes more relevant in various sectors of the economy, questions arise about the scrutiny that will be placed on the concentration of power and wealth in certain asset management and wealth management organizations, according to analysts' views as outlined in the mentioned report.
5. Disruptive technologies will guide the new direction.
The margin for asset managers in implementing disruptive technologies has become shorter, and the coming times will reveal who the main winners and losers are in the adoption of solutions such as big data, artificial intelligence, blockchain, and others to enhance their product and service offerings.
Technological disruption in the asset management world is giving way to personalized indexing products and tokenized assets, while specific solutions like artificial intelligence are giving rise to personalized attention tools.
In this regard, automated portfolio management is making its way into the asset management business, generating efficiencies and quicker response times for clients, although several challenges arise in the use and protection of personal data.
Projections show that so-called robo-advisor systems could contribute to asset management with $5.9 trillion by 2027, more than double the figure calculated for 2022.
PwC surveys show that nearly 90% of institutional investors acknowledge that implementing these disruptive technologies will result in better portfolio returns, and a similar percentage already uses them to optimize their investments.
In summary, asset managers face challenges due to uncertain economic conditions and market changes. It emphasizes the importance of resilience in a volatile environment and increasing competition in the industry. It also highlights the need to cater to high-net-worth investors and consider ESG criteria, as well as the growing influence of technology in asset management. Overall, asset managers are expected to adapt to these challenges to survive and thrive in the coming years.