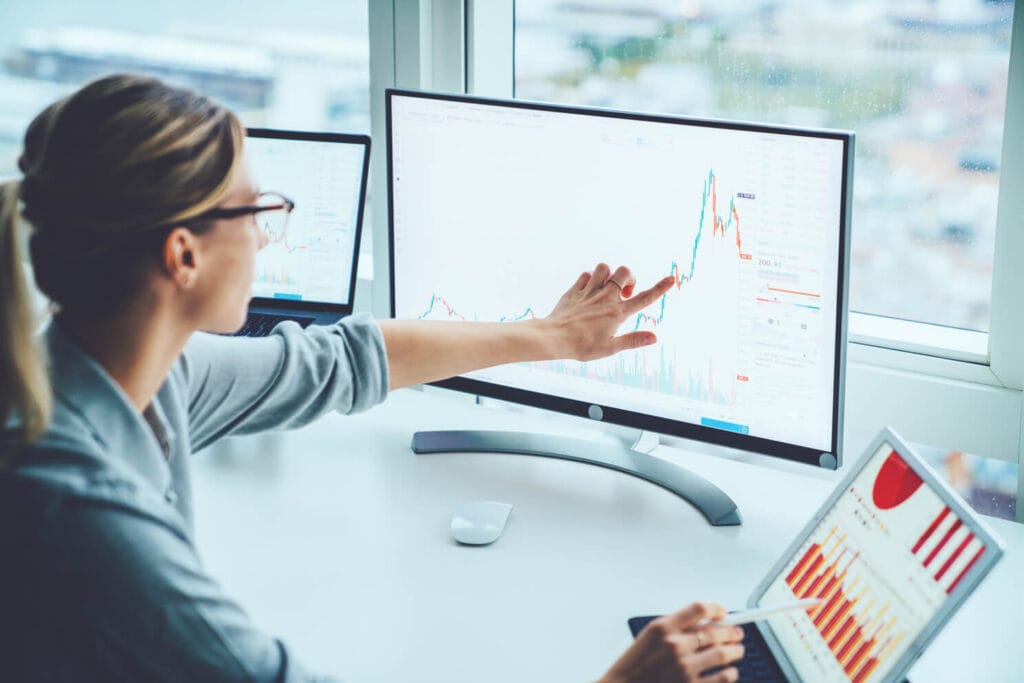 The financial and stock market industry is full of professionals who play different specialized roles
As in all specialized sectors, the financial and stock market comprises highly trained professionals who perform different tasks related to money management, both their own and that of third parties.
Although the roles will depend on the size of the financial organization and its objectives, the truth is that some positions are very common in all of them.
Advisor
In the first place, the advisor or financial adviser will be in charge of discussing the investment strategy with the clients, individual or corporate, to help them manage their capital based on a series of stated goals and needs.
The particularity of the advisors is that they will have to be excellent communicators since they must adequately explain which are the most suitable financial assets for each risk profile, in what proportion they are recommended, etc.
As the Corporate Finance Institute (CFI) explains, "financial advisors can help individuals and companies reach their financial goals sooner by providing their clients with strategies and ways to create more wealth, reduce costs, or eliminate debts."
Portfolio manager
On the other hand, there is the portfolio manager. This professional will be responsible for managing the investment portfolios of mainly an investment bank, broker-dealers, or investment fund.
Usually, each mutual fund has a portfolio manager who will have to decide how to respond to market behavior to meet the agreed objectives and thus satisfy the needs of clients who invest money in the financial vehicle.
The CFA Institute summarizes that portfolio managers "are investment decision-makers."
Family office manager
As its name indicates, the family office manager is a financial executive who will manage a family office, an entity created to administer the fortunes of families with very high purchasing power.
Like the portfolio manager, the family office manager must make investment decisions about which assets to buy and when to do so to meet client needs, which are typically linked to protecting wealth so that it lasts through generations.
In addition, according to Josep Tapies, holder of the Family Business Chair at the IESE Business School of the University of Navarra, a family office manager should "maintain family unity and serve as an incubator for talent and entrepreneurial ideas."
Hedge fund manager
Within the financial and stock market sector, hedge fund managers also play a crucial role.
Those in this position will manage a hedge fund, a collective investment vehicle is more flexible than a conventional mutual fund that aims to earn an economic benefit regardless of the primary trend of the markets in exchange for greater risk, generally.
This professional will carry out a task very similar to that of the portfolio manager since they will practically be within this category. Still, they must be more knowledgeable about alternative investment strategies and manage volatility well.
Real estate portfolio manager
A real estate portfolio manager will move away from the stock market to enter the real estate environment, where properties are designed, developed, marketed, and rented.
Because the real estate market is less liquid and standardized than the capital market, the executive in charge of a portfolio of these assets must have experience beyond finance and be a specialist in real estate.
Head of Research
To make investment decisions, managers rely on extensive and in-depth analyses of assets, sectors, markets, and macroeconomic factors prepared by a team of analysts led by the head of research.
This professional usually is an economist with strong analytical skills and extensive knowledge of local and international markets. They will be responsible for forecasting where the world is heading economically.
Head of Trading
Finally, there is the head of trading or chief of operations. Specifically, the expert who occupies this position will be the one who decides how to execute the subscription and redemption orders for financial assets issued by the portfolio manager.
Due to their close contact with the volatility of the markets they will have to master risk management, fully control their emotions, and keep stress within reasonable parameters.
Nowadays, the head of trading has programming knowledge because algorithmic trading plays a fundamental role in large financial organizations.
Although there are many professionals and management positions in the financial and investment sector, those mentioned above are the most relevant and in demand by specialized companies.
Sources:
https://corporatefinanceinstitute.com/resources/career/financial-advisor/
https://www.cfainstitute.org/en/programs/cfa/charterholder-careers/roles/portfolio-manager
https://www.youtube.com/watch?v=jIfdHFZZj7s&t=6s